The Power of 3: Enhancing Ontario's Utility's Digital Strategies through Green Button Technology
Written by: Gary Michor (CEO), Screaming Power Inc.
Screaming Power, Utilismart Corporation and UtilityAPI Team Up to Provide Ontario Utilities with an Advanced Green Button Solution that enhances the Utility's Digital Strategy
Screaming Power, Utilismart Corporation and UtilityAPI are pleased to announce a Green Button Toolset that is ready for the Ontario marketplace. This team of experts has years of experience integrating digital strategies for utilities and enterprise energy users, offering the Ontario energy marketplace a proven, mature product set that satisfies its unique demands. The partnership will capitalize on the existing market positions in the Ontario energy industry and beyond to provide a SaaS solution that is managed and operated in Canada.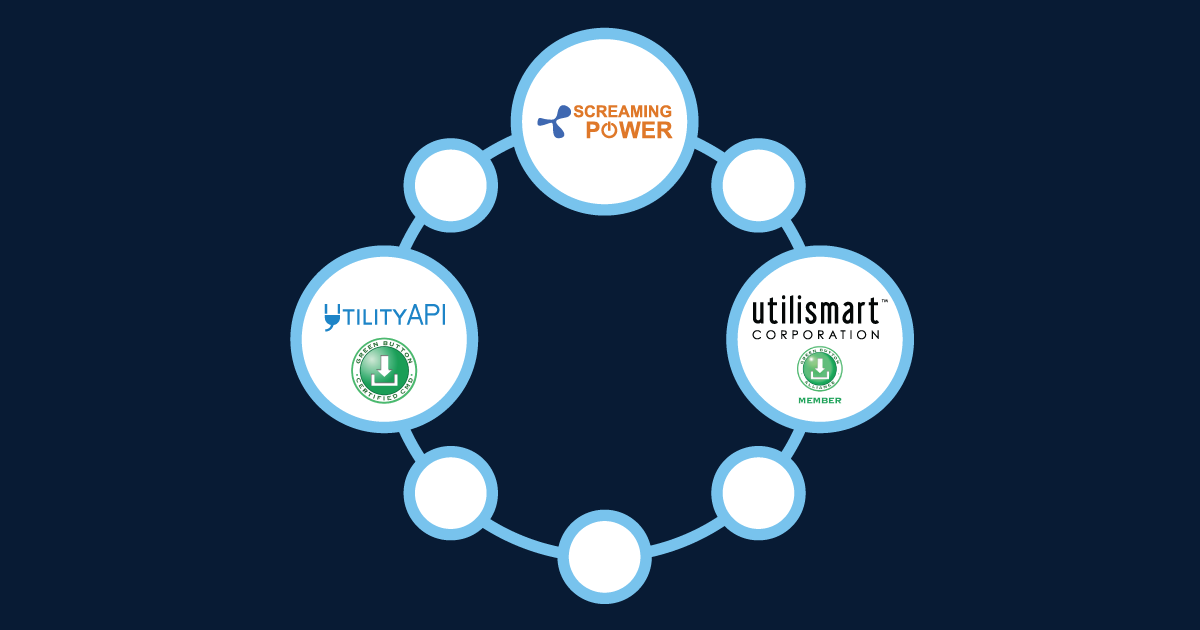 To simplify the integration of Green Button, the Ontario Green Button Service exists as an add-on to Screaming Power's Scream Utility and Utilismart Corporation's, Settlement Manager, C&I Energy Manager and Consumer Engagement Platform products and other existing portals. In addition, it will be offered as a stand-alone Green Button Toolset to be used in conjunction with existing utility customer engagement systems. In collaboration this partnership, Ontario utilities have already started implementing this Green Button system, planning to roll out the first system in the first quarter of 2022. 
The partners will work alongside third parties to implement a secure, cost-effective Green Button infrastructure. The solution will be built as a white-labelled toolset, allowing utilities to implement new digitization and data strategies that comply with the mandated standards, and coexist seamlessly with the utility's existing brand. The solution will be certified as Green Button compliant, widely market tested, and exceed Ontario's current requirements.
Gary Michor, CEO of Screaming Power says, "It's time for our existing and new customers to have a solution set that is not just on paper.  The Ontario Government requires Utilities to be Green Button Compliant by November 2023, and this team is in the best position to get this done. UtilityAPI's platform integrates with 1000+ third parties already, and it is the most widely used Green Button toolset in the United States. There is no other company that comes close.  We are excited to provide a service to Ontario with our partners as a Canadian-managed and -operated solution.  The relationship with UtilityAPI and Utilismart Corporation is strong, with shared business philosophies and managed infrastructures. This synergy will save our Ontario utilities time and effort while providing a technically superior solution in Ontario."
Collaboration of technology leaders with reputation, experience, and proven technologies will accelerate the delivery of the Green Button requirements cost-effectively, providing benefits to all Ontario LDCs and their customers. Our joint effort will enable consumers to unlock additional data-driven energy efficiencies," added Steve Ray, President of Utilismart Corporation.
The Green Button solution set will integrate into iOS, Android and web-based applications exceeding market expectations.  Devin Hampton, CEO of UtilityAPI says, "We're glad we can work with our Ontario partners to offer what Ontario needs now to fight climate change and lower energy bills. Our companies' combined strengths and expertise will let us bring the Ontario Government's Green Button Initiative to life very quickly. We're happy to be working with Screaming Power and Utilismart Corporation to help Ontario individuals and organizations gain access to their data easily and securely, all while helping utilities control their implementation and certification costs for Green Button."
This enhanced Green Button solution provides simple-to-use menus for customer, utility and 3rd party management. It has been in production with some of the largest US utilities using Green Button.
About Utilismart Corporation: Utilismart Corporation's Digital Utility Platform provides utility analytics tools that enable distribution utilities to embark on their digital transformation journey and help transform them into Distribution Systems Operators and energy services companies. Utilismart's innovative solutions enhance the distribution grid visibility, management and planning, creating operational and cost efficiencies. Our business process automation and revolutionary consumer engagement capabilities set the standard for customer excellence and provide a platform for accelerated renewable and green technologies adoption.
About UtilityAPI Inc: UtilityAPI's SaaS platform is a fully-featured product tested by UL and certified by the Green Button Alliance. It provides simple, secure, standardized, and authorized access to utility data. Our platform is the only one that currently exceeds Ontario's minimum requirements. We also offer an easy-to-use benchmarking portal that provides automated reporting of whole building aggregate data to fulfil benchmarking or environmental, social, and governance (ESG) mandates.
About Screaming Power Inc.
Screaming Power is revolutionizing customer engagement by providing a smart platform that connects the energy user, allowing for effective and secure two-way communications to educate, change behaviour and encourage sustainability. Our extensible Intellectual Property provides a low-cost, digital infrastructure for a self-sustaining Eco-System. Our Scream Utility & Scream Enterprise solutions focus on reducing 'cost-to-service' for utilities and the building energy footprint for large enterprises while driving satisfaction and facilitating the delivery of innovation (e.g., connectivity to the IoTs).