Screaming Power Proudly Present Our Current Patents:
METHODS AND SYSTEMS FOR ENERGY USE NORMALIZATION AND FORECASTING
(United States Patent)
This new, modern computer-implemented method of weather-normalized energy usage is already in use by Screaming Power for the analysis of commercial and residential buildings. It has proven to be flexible and adjust to multiple use cases. Screaming Power's patent, "Methods and Systems for Energy Use Normalization and Forecasting" introduces Structure Dependent Weather Normalization as an innovative analytical breakthrough to weather normalize and forecast the behaviour of energy usage/loss while taking into consideration temperature, humidity, solar radiation and wind using machine-learning/deep-learning processes that are more resilient to today's extreme weather conditions than existing methods used by the energy industry today.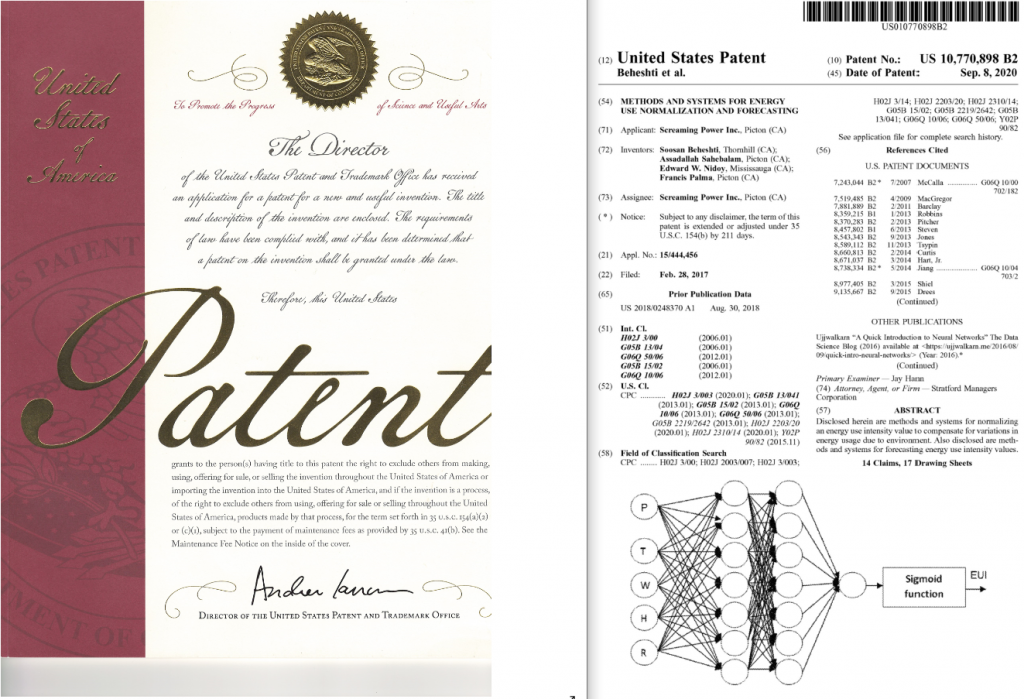 METHODS AND SYSTEMS FOR ENERGY USE NORMALIZATION AND FORECASTING
(Canadian Patent)
This method was developed in collaboration with Ryerson University's Faculty of Engineering and Architectural Science. The research was supported with funding from the Government of Ontario, through the Ontario Centre of Innovation, and the Natural Sciences and Engineering Research Council. Patent preparation was also supported in part through advisory services and research and development funding from the National Research Council of Council of Canada Industrial Research Assistance Program (NRC IRAP). The method was published in Energy Science & Engineering Journal in January 2019. This novel method utilizes new computational models of energy usage and then applies these models to normalize weather and forecast energy usage behaviour.