Ontario Green Button toolset
Our Ontario Green Button solution provides  Ontario LDCs (Electric and Natural Gas Local Distribution Companies), their customers and 3rd parties as a SaaS or standalone service  to meet Ontario's Regulation (O.Reg 633/21: Energy Data) and the Ontario Energy Board (OEB)  Green Button Implementation plan.  This Ontario Green Button toolset will access electricity and natural gas data and share it with third-party vendors in standardized formats including Green Button defined XML to exceed data implementation and access needs. The Ontario Green Button solution is ready for implementation, proven to work, and is hosted / operated in Canada. The toolset exceeds the regulatory requirements and needs of small, medium, and large utilities, especially third parties requiring the Green Button data to advance their business capability, enable energy efficiencies, and accelerate the adoption of green technologies.
Code With Nature: Future Generations Are Counting On It.
Try Green Button Now.
Ontario's Green Button toolset Solution is Here
Screaming Power and Utilismart Corporation have teamed up to deliver the Green Button toolset solution, powered by UtilityAPI technology, for Ontario Local Distribution Companies (LDCs). The Ontario Government has moved forward with the implementation of Green Button by electricity and natural gas distributors. Green Button grants households and businesses access to their utility billing and metering data, as well as allows the energy user to authorize the automatic, secure transfer of their data from their utility to external applications or third parties.
The Green Button toolset is ready for implementation, proven to work, quickly certifiable by the Green Button Alliance (as required by regulation) and is hosted / operated in Canada.
Step One:
Third-Party Setup
– Third-party registration form
– Access to sandbox environment and test data
– Testing and developing third-party applications
Step Two:
Local Distribution Companies Approval
– Go live approval
– Listing in directory
Step Three:
Customer (Rate Payer) Authorization
– Selection of the third party
– Data sharing authorization form
– Authorization receipt
Step Four:
Third-Party Full Access to Customer Data
– Immediate and controlled data access through dashboard and API
– Export data in Green Button and other formats
Frequently Asked Questions for Green Button
Mythbusters Green Button toolset edition 
Ontario's regulations now require 'data custodians' — which is to say, utilities — to offer a tool that allows consumers to access and share their energy data with authorized third parties (e.g., authenticated and trusted to receive consumer energy data using the data sharing tool).
This tool will follow the Green Button standard to securely and privately exchange the data, which can include personal information about the consumer (name, service address, meter number) as well as usage and billing data. Utilities must have their tool certified as compliant with the Green Button standard.
Utilities are required to build, buy, or hire a service to create the secure authorization, authentication, and exchange system, as well as the user experience for consumers and third parties.
As for where you can find such a tool, the Screaming Power / Utilitsmart / UtilityAPI partnership is ready to demo and implement it for you. Reach out to us for more information: Contact Us
I have existing vendors that provide utility services to me. Should I have them implement a GB solution?
Naturally, you value your existing vendor relationships! That's why you want to ask them to submit when you send out your RFP and see what they have to offer. However, your current providers may not have the technology or experience needed for this highly technical project.
If done right, your Green Button can be a bridge to the future as part your Utility's digitization strategy. Building a quality Green Button now is your next step into the new utility ecosystem, where everyone and everything is connected. Getting a good Green Button technology is key.
Plainly speaking, there are two kinds of Green Buttons: ones that get used, and ones that don't. Our Green Button technology comes from UtilityAPI, who has seven years' experience building the former. UtilityAPI's founder and CTO helped create the Green Button standard and serves as the Vice-Chair of the Green Button Alliance, the organization tasked with certifying every Ontario utility's Green Button toolset.
UtilityAPI's Green Buttons have been widely adopted and used by utilities large and small — hundreds of third parties; thousands of meters shared, representing hundreds of millions of kWh of usage. Our solution is fully featured, mature, and proven. With our level of experience in your corner, you'll feel very secure heading into the regulatory and certification environment, and beyond.
We're having problems finding material for RFPs and vendors to provide the GB Service. Help!
The sooner you put out your RFP, the better as the Regulation requirement of November 1, 2023 is approaching fast. In order to fairly evaluate the proposals, here's what we recommend:
Cast a wide net so you can evaluate potential Green Button Data Custodian products separately from your existing infrastructure. You'll want to weigh the comfort of working with your legacy vendors against the value and expertise that a new vendor can offe
Ask about adaptability. A good Green Button system will adapt – so you don't have to. Flexible, customizable Green Button platforms can be built on top of existing utility data structures. There should be no need to change CIS/MDM/ODS/data storage vendors or billing systems unless your decision to change is driven by your own business needs.
Take a look at the information from the Ontario Energy Board's Industry-led Working Group (OEB IWG). This independent working group is building the best practices for our industry. You can reference these practices in your RFP, if you like.
Ask for a live demonstration or even a pilot. In fact, you can do that now, even before you put together your RFP. You'll know more of what you want after you see how a real one works. A demo or pilot will give you real information about a real solution in production at large and small Utilities now, versus telling you about a potential solution on a PowerPoint.
Now that Green Button is a regulatory requirement in Ontario, consider how much faith you feel comfortable extending to organizations that are still working out where their technology is going. We are ready to serve you now because our technology already exists in the world and is in production, used by Utilities and hundreds of third parties daily.
When you've collected the responses from your RFP, you'll need to choose the vendor you think will do the best job getting you over the finish line – and beyond! When you choose us, you're bringing your billing system (BYOB!) a solution that you know works both today and into the future, whatever the future holds.
We offer the best-in-class, standalone Green Button Data Custodian product, including hosting and security, data integration, and data management that meets or exceeds Ontario Government regulatory and future policy requirements. We guarantee it. We also offer a data translation consulting service to transfer your billing and meter data into the Green Button standard.  We have already integrated with most Utility vendors.
Finally, we offer a full-service product in which we manage everything for you. All you need to provide is the authority to work with your legacy data suppliers and or your internal team of specialists. Whomever you choose should be ready to satisfy all your concerns as the Data Custodian on record. We certainly are!
For our full-service product, we charge for set up (which includes data integration), rollout of the toolset, and training. Post-launch, we charge an ongoing service fee. Part of that ongoing service includes managing your GBA certification and planned Government changes.
Costs vary widely for each product, depending on your needs and how many other Ontario utilities come on board. The more that do, the lower the cost will be for each individual utility. We're committed to working cooperatively to bring down costs.
When utilities adopt our product, third parties are in luck. We provide an easy-to-use, self-service interface, plus tools that can have you requesting data in as little as five minutes. We offer flexible features to help you integrate the data service into your existing applications and processes. We're the experts in making data access as easy for you as possible. Just ask the 1500+ third parties already connected to our solution. We also include training and support, including webinars, videos, and product documentation written in simplified, jargon-free language.
Generally, there should be few costs and minimal delays for third parties to connect to a properly built system like ours. One of the main points of this regulation is to support local Ontario businesses like yours. When third parties like you actively participate in digitizing Ontario, you save us all time, money and resources, all while making Ontario a more sustainable province to live in. 
What size utilities do you work with?
All sizes! We have highly satisfied utility customers with thousands of customers. We also have highly satisfied utility customers with millions of customers. Our Green Button solution is already live in several parts of North America, so it has been proven to meet every type of utility's needs.
Are you Canada/Ontario-focused?
Yes, we are. While our underlying Green Button technology has been tested and proven in the United States over the past seven years, everything we do is managed in Canada. We know what COVID-19 has done to our businesses, including the stress it has put on our local utilities and our lives. As such, our focus is on establishing a strong, Ontario-focused business infrastructure that will grow good jobs right here at home. Together, we can renew the Ontario ecosystem as it reemerges post-pandemic.
How to share data with third parties in a secure manner?

•  Adopt a resilient data-sharing infrastructure that enables innovation and energy transition
•  Enable data sharing authorization processes that ensures confidentiality and an provides audit trail
•  Provide secure, controlled data access to third parties
•  Use existing innovative technology that allows for secure data interchange
•  Use the only proven Green Button solution supported by the US Department of Energy (DOE) and SOC 2 compliant with the highest privacy standards
•  Use Ontario's only ISO 27001 certified utility services provider, ensuring the highest information security management
•  Work with people that not only understand Ontario's Green Button implementation strategy, but also Co-Chairs the OEB's Independent Working Group (IWG)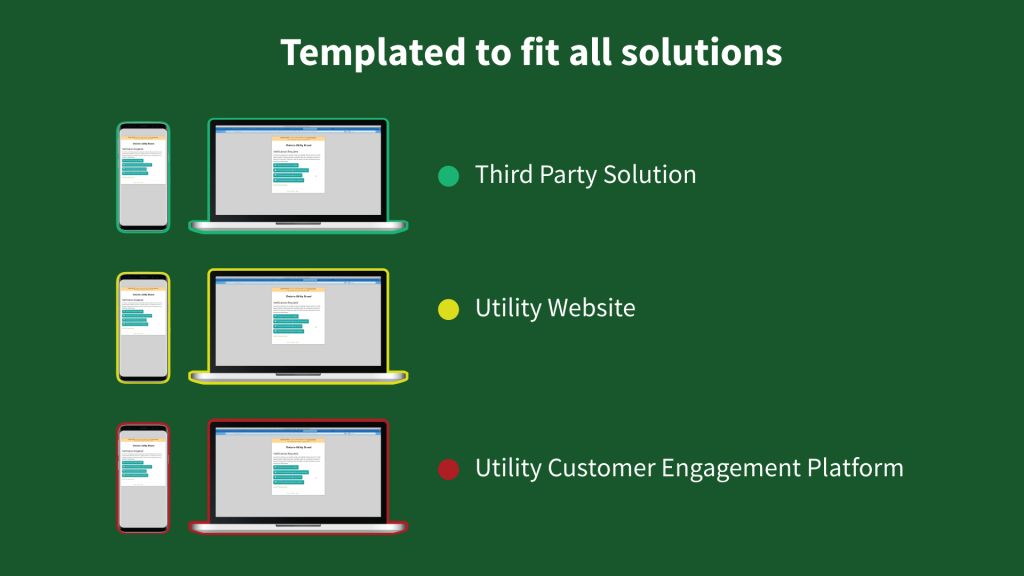 The Utilismart and Screaming Power team have created a flexible data integration process and solution that Ontario Utilities and third parties can efficiently utilize and integrate with their existing business processes and products. Our Green Button toolset for engaging third parties, ratepayers, and the market is capable of achieving the OEB mandated objectives sooner than any other Data Custodian solution in the market. Our team's Green Button solution supports LDC-specific branding, which enables consistent customer and 3rd party experience.
The Green Button implementation team includes experts who have years of experience integrating digital strategies and customer engagement solutions for utilities and enterprise energy users, offering the Ontario energy marketplace a proven, mature product that satisfies Ontario's unique requirements. Our Green Button implementation team will facilitate Green Button certification on behalf of LDC so that November 2023 regulatory requirements are met.
The Ontario Green Button toolset solution can operate as a stand-alone secure web-based application that does not require integration with existing customer portals. Optionally, the solution can integrate with customer portals for authentication purposes. Our 'Bring Your Own' CIS and ODS strategy allows flexibility and independence that is not offered by any other solution.
Many Ontario LDCs have started implementing Green Button strategies. The Screaming Power and Utilismart Corporation team is available to help guide LDCs on the technology adoption path that will meet their needs and implement a secure, cost-effective Green Button infrastructure. Our Green Button implementation team is the most capable, knowledgeable, and experienced related to Green Button standard, implementation, and utility data management. Our implementation team is the only solution that has already integrated more than 1500 third parties in the US with the highest privacy security standards in the market.
Many LDCs plan to adopt the same GBT solution provided by Utilismart and Screaming Power. This cooperative approach will enable them to work together, creating cost and other operational efficiencies.
Please get in touch with us at wanttoknow@screamingpower.com or Tel +1 833-227-0696 to schedule a free one-hour consultation. Our team is ready to explain why our Green Button solution is the best in class.