A Secure Green Button Toolset Ontario Can Count on
Written by: Gary Michor (CEO), Screaming Power Inc.
Ontario's electric and natural gas utilities are transitioning to provide digital billing and metering information to their ratepayers and authorized third parties. This transition is a Government of Ontario regulated requirement through the Green Button initiative. It is important to ensure that this new customer engagement digital toolset has the highest level of data security, due to the evolving world of cyber security management. The UtilityAPI Green Button Toolset is a thoroughly tested, trustworthy solution that has already been on the market for several years. Along with its partners, Screaming Power and Utilismart, they provide an unquestionably solid Green Button infrastructure built with a utility's security in mind.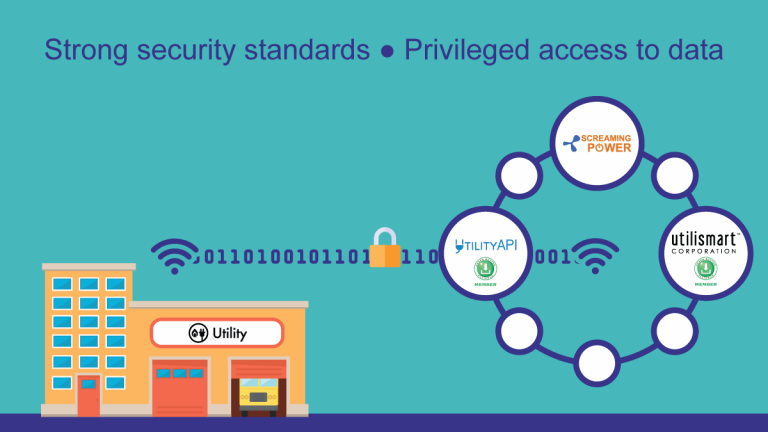 The Screaming Power-UtilityAPI-Utilismart Green Button toolset currently in production has had multiple advancements through the years to ensure cybersecurity management is the highest priority. UtilityAPI recently received SOCII Type 2 attestation and has the strongest possible commitment to delivering safe, high-quality services. UtilityAPI holds a U.S. patent for secure methods for third parties to electronically obtain authorization and interact with a public utility on a utility account holder's behalf, locate and collect the account holder's energy usage and billing data, and process and store the data using high security measures. As a result, UtilityAPI is an internationally recognized expert in the energy data security and privacy field.
With UtilityAPI, you can guarantee that data is never sold to or shared with any other parties.      UtilityAPI is a collection service only; they do not anonymize or aggregate, and they do not share collected data with others without the explicit approval of the data owner.  This makes UtilityAPI's the only solution set a utility should consider when implementing a Green Button toolset for their regulated jurisdiction. 
Due to the need to implement a Green Button Toolset for dozens of Ontario utilities by November 1, 2023, there are many third-party providers attempting to design a solution for the Ontario marketplace.  The fact is our Green Button Toolset's competitors aren't devoting due attention to the matter of cybersecurity because they're still busy building their applications. Outdated legacy security strategies don't recognize the constant security awareness and updates needed in the current era. Ontario utilities need a Green Button solution with a proven track record to protect their data resources.
UtilityAPI's solution does not rely on vulnerable hardware in remote locations. They build, review, and update their security for the Cloud and open secure networks. UtilityAPI's business focus is on a Green Button toolset with utility security evolution in mind while also providing accessible, easy-to-manage tools that are proven to be best in the market. Screaming Power and Utilitsmart count on UtilityAPI to provide this solution to Ontario because utilities must depend on it to provide the highest quality cyber security to succeed in this new data engagement environment.  There is no other partner that a Utility can depend on because there is no other solution with proven security acumen evolving secure Green Button data management to meet the changing needs of the Utility infrastructure in Ontario.
For over 20 years, Utilismart Corporation has been an unparalleled provider of cloud-based Meter Data Management-driven analytics and Advanced Metering Infrastructure software solutions. Utilismart is on the frontlines of digital transformation, supporting small- and mid-sized utilities across the continent as they embrace smart grid technologies. With a diverse portfolio of software and best-in-class data centers, Utilismart combines industry knowledge and cutting-edge technical experience to turn utility data into the informed decisions that power our world.
UtilityAPI is a mission-driven software company based in Oakland, California. Our data exchange tools are used to accelerate deployment and monitoring of distributed energy resources and energy efficiency technologies. Some of the top solar, storage, and energy efficiency companies use us every day. For utilities and utility vendors we enable seamless data access and behind-the-meter insights through our safe, secure, and standardized data exchange platform. We also work with regulators and local governments to shape effective utility data access policies. UtilityAPI's mission is to create a secure and standardized data infrastructure for the evolving energy economy. 
About Screaming Power Inc.
data platform that connects the energy user with the market, allowing for effective and secure two-way communications to educate, change behaviour and encourage sustainability in a cooperative way. Our extensible Intellectual Property provides a low-cost, secure, digital infrastructure for a self-sustaining Eco-System. Our Scream Utility solution focuses on reducing 'cost-to-service' for utilities while driving satisfaction and facilitating the delivery of innovation and engagement (e.g., connectivity to the IoTs).