Scream Utility – Not a Typical Utility Customer Portal
Written by: Gary Michor (CEO), Screaming Power Inc.
Introduction: Most people in the energy industry believe a Customer Portal is a secure infrastructure sitting off the Utility's public website, where a customer logs into it to get their bill and meter details plus maybe pay a bill.  When utilities have outages and/or grid issues, they typically have separate apps/websites to assist customers, not a single unified Customer Portal. This White Paper focuses on the evolution of a new style of customer portal for electric, water and natural gas Utilities.  One that is built to adapt as communications, data management strategies and innovation opportunities evolve.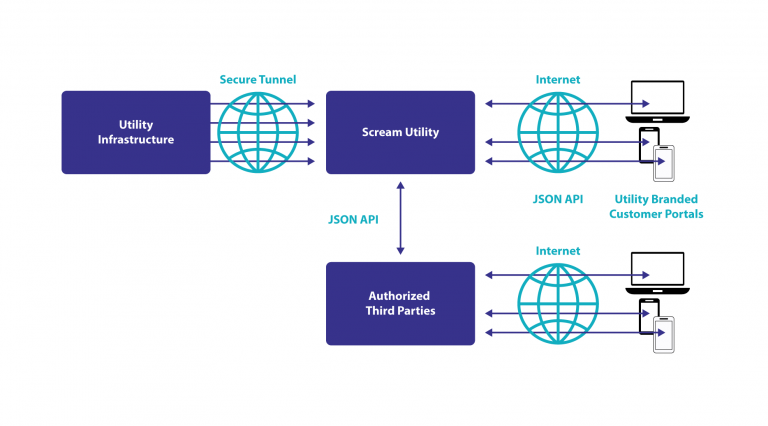 To meet Utility engagement needs, our infrastructure improves continuously so it can be part of a Utility's Digital Strategy. Global digitalization is evolving at a rapid pace and Utilities are no longer siloed from the changing times. Rapid changing climate conditions and events are becoming more common and lead to real issues for the energy and water grid. Effective 2-way communications are becoming key to assist the energy community in responding to these issues.
Utilities are starting to leverage secure customer access to do more than just provide standard and static functions.  Utilities have the opportunity to embrace the reality that they have so much more to offer.  Our Scream Utility solution has proven to be a cooperative solution that over time reduces overhead and operational costs for everyone (Utility, energy user and other stakeholders). It provides a troubleshooting infrastructure for data access, management, analysis and presentment.  In this White Paper, we look at this technology, as well as opportunities today and in the future.  
A Customer Portal is a tool that should communicate through multiple channels. A unified customer relations management solution (direct to customer, web, mobile, and digitally) should allow the Utility and end user standardized, seamless 2-way interactions.  Many Utilities have multiple end points of communication but none of these endpoints work together efficiently. In fact, even for a customer to engage, they need to authenticate and be authorized differently for each communications channel, as the tools are typically built by different companies with competing strategies and interests that don't always represent the best interests of the Utility.
Timeline: This White Paper reviews the existing tools and features of Scream Power's, Scream Utility   for the May 2022 release.  This solution is constantly evolving. By time this White Paper is released, the product set will have evolved, as Screaming Power's continuous process to rollout updates and new tools are a constant reminder that effective cooperative Utility customer engagement (described in a separate Case Study), is not a static process.
Goal: Utilize a multi-purpose, single code base for multi-Utility branded customer engagement (i.e., Customer Portal) to provide value to the Utility and end users through continuous improvement:
• Flexible User Interface and Presentation features
o Review the customer interface and gauge the flexibility of the solution to adapt to evolving needs in a multi-utility solution infrastructure
• Superior look-and-feel front-end tools link user administration to manage users and their devices.
o Review look-and-feel of the front end and how the user is managed with changing user devices and user account type needs (e.g., different rates / tariffs)
• Superior data integration strategy for Utility data
o Review integration roadblocks and achievements to independently manage third-party vendor interactions  
• Superior analysis and monitoring of data aggregation
o Review analysis and monitoring roadblocks as well as achievements to ensure the data is correct and information is linked to appropriate accounts and users
• Ease of integration to parties authorized to use the Utility data
o Review outbound data sharing and opportunities for multiple Use Cases
• Adaptable platform to manage day-to-day security issues
o Review security issue management in a mobile digital world
Background: Screaming Power believes in a digital Utility of the future and that Utilities need to consider long-term strategies when considering new and updated IT implementations.  In 2013, Screaming Power looked at the future and anticipated the evolution of digital communications technology. We recognized that engagement for mobile-based technologies was becoming mainstream yet was absent in the energy space. Now in 2022, there are about 6.64 billion smartphone users which makes up approximately 84% of the world population (data from Statista).  The reality is mobile connections are staggeringly high today, with 10.6 billion IoT cellular connections and rising every year. There are about 2.6 billion more mobile connections than people in the world, yet the older Utility communications tools still need to be available as we live in a diverse world. 
To meet growth trends, the mobility industry has had to adapt to rapid change and ongoing security risk mitigation. Today, this industry has major advances about 4 times a year with daily evolution created by the supporters of the technologies used. For legacy vendor technologies in the energy market today, it is almost impossible to keep up with this rapid evolution using their legacy IP, and old methods of development / implementation approaches.  To be part of the global technology wave, the product set needs to be built and improved cooperatively to manage risk and to ensure the technology toolset keeps relevant with a rapidly changing environment. While technology must maintain effective communication options and growth, it also must deal with the constant challenges of security and IoT / communications integration. Many energy vendors are still trying to find ways to keep their legacy systems locked down, as there is a continued attempt to manage their return on investment and maintain revenues by being the silent gatekeeper of Utility energy data. 
As discussed, technology used in the mobile industry is adapting daily to meet the needs of the ecosystem.  In the Utility space, it is still common business practice to advance technology and standards slowly (e.g., every few years). This legacy trend is no longer viable for effective customer engagement to meet the broadening needs and growth potential of the digital world.  The Energy industry can no longer work in a silo, as this information needs to be reused for innovation, sustainability and digital evolution of energy utilities themselves.  
Screaming Power's flagship product, "Scream Utility", was put into production as a Utility first in Ontario, Canada in 2017 (see Case Study).  The Solution today has 2 separate tools:  1) a server infrastructure that manages the information and its interaction with multiple devices / users, and 2) a flexible iOS, Android and web-based toolset (customer engagement portals) customized to the needs of the Utility for branding, information, interaction, education, engagement and 2-way support.  Although Screaming Power builds the front end as part of its service, the server toolset can interact with multiple third parties at the same time, allowing for interchangeable customer engagement tools to suit the Utility's needs.  The Server toolset interacts with third parties through a constantly evolving JSON API and test bed, which was greatly enhanced in our 3.0 version and continues to be improved to adapt to changing needs (due to recent Green Button implementations in Ontario and North America).     
A lot has changed over the years in mobility, internet, IoT, sustainability, green tech and customer engagement. Scream Utility has gone through multiple prototypes, pilots and many advancements into production feature requests by our Utility partners and end users.  Also, as part of our regular operations, our innovation team continuously work on tactics leveraging machine learning and new mobile techniques to create advancement through lessons learned.  These new approaches were not available in the market just a few years ago.   
There is a multitude of Use Cases for this solution, as it has been built to be part of the Utility's future.  The focus of Scream Utility continues to be a mobile-first solution, yet we have adapted this technology to be much more because the evolution of technology is an ongoing process to build or integrate to new technologies and replace old user engagement tools that are slow to react to the changing times. 
Scream Utility is a brandable, multi front-end platform that has extensive administrative analysis, monitoring, alerting, and reporting tools provided through a powerful secure administration web enabled portal, which is the Utility control center and Admin interface.
Scream Utility can link to upstream and downstream third-party tools and has an extensive API framework to allow the flow of data to be managed for today's environment.  It is not a replacement of core Utility technology, but it is a "blanket" that stretches over the utility and energy market to remove roadblocks to existing innovation and business needs. Scream Utility can extend the life of legacy systems, so that today's data engagement can happen more quickly and cost effectively.
Implementation and rollout of our Scream Utility 3.0 was a great achievement for Screaming Power. The company's existing and future customers are better positioned through the efforts of our team.  See the Case Study produced earlier this year on Scream Utility 3.0 rollout for details.  The goal of this White Paper is to focus on the tools / features available in the 3.0 Scream Utility release and discuss the milestones achieved that make it the solution every Utility should have, independent of size. 
White Paper Overview
There are multiple interaction elements to be looked at in this White Paper:
• Communications to and from customer
• Communications to incoming systems
• Communications to and from outgoing systems / devices / users
• Education, management of output to build for the future
• Reporting and analysis of adhoc / missing information and data latency for issue monitoring
All these elements are important to look at together to understand their interaction for today and future needs. It requires planning to ensure there are no roadblocks to Utility evolution in the rapidly evolving world of mobile / internet technology. 
When reviewing an effective solution like Scream Utility, you need to consider that customer experience is an essential service because:
• it is part of a critical business process,
• the solution is integrated with many applications,
• the data input / output is used for decision making, reporting, alerts, payment, interaction, review, verification and analysis,
• the solution is an embedded part of the users' product / output
• It serves users across multiple functions
• It is the primary source of critical data that can only be provided by the Utility
Features provided in Scream Utility Branded Customer Portal today are:
• Public and personal access to data (ability to add blocks of data to the Utility's public Website through APIs or publicly displayed prior to private login). For example: outages, support, news, education, rates, and Utility updates including planned work.  
• A single user authorization and authentication across all Customer Engagement tools (mobile, web, and person-to-person communications)
• Ability for user and Utility to easily administrate (by connection / device) sharing of accounts
• Two-way outage alerts between the Utility and customer integrated to the Utility's Administrative interface allowing the customer to assist the Utility in events in real time.
• Standard bill and meter information is provided digitally and dynamically, including history with controlled data exporting features and automated PDF bill delivery on user request.
• Sustainability / conservation tips with embedded Utility marketing and education
• First-level, 2-way customer support with a ticketing system that communicates directly with the user and integrates into the Utility admin for real-time communication and issue logging. Screaming Power provides optional first-level customer support for Utilities as well, opening opportunity for our expert team to help manage customer interaction. This is also an important feature for cooperative approaches between Utilities where resource sharing is an option.
• Billing / meter analysis including GHG conversions, education and rate comparison
• Full meter load reporting and other tools provided in the Utility Admin.
• Ability for the Utility to interactively revise presentment information in Customer Engagement tools in real time (through the Utility Admin)
• Ability to integrate multiple 3rd party payment portals, outage tools or other systems to meet the utility's needs.
The feature list is expanding monthly as part of our cooperative effort with Utility partners and internal research / investigation.  This is done as part of our regular SaaS service.  
Results
Flexible User Interface and Presentation features
At its core, Scream Utility was designed from the ground up to adapt to the needs of each utility. Using a component-based architecture, features and functionality can be enabled or disabled instantly.  
Scream Utility, by default, supports many features such as outages, meter readings, bill notifications and GHG calculations to name a few.  Each of these features can be turned on and off in real time without effecting any other functionality or features within the toolset itself.  The interface is designed to automatically adapt to feature changes that become available or are turned off, so that the user experience will always be cohesive, simple and easy to use.
Every utility being unique, Scream Utility can adapt support for electric, water, natural gas, all three, or other services the Utility may provide.  Furthermore, it can manage all the customer types beyond standard residential and commercial.
Superior look and feel front-end tools linked user administration to manage users and their devices.
Beyond the utility-level customisation and flexibility allowing Utility-driven content updates and notifications on-the-fly, Scream Utility also natively adapts to each user to create an experience tailored to them.  Customers on Time-of-Use (different Tariff rates), for example, will be shown Time-of-Use rates, but not Tiered rates and when the user or the Utility changes the rate, the solution adapts to the change and vice versa.  Commercial customers will be shown rates applicable to them.  Customers with multiple accounts can easily view all relevant data from their accounts without the need to log out and in again and can add and remove accounts as desired (by moving through an automated authentication process).
The linkage to the look-and-feel and the changing data is not static.  The system adjusts to the information it receives in real time, so all features (including outage management) are fluid making the toolset more engaging to the user.  It becomes the place to go for key Utility interaction and allows the user to see one integrated, branded Utility experience.
The integrated support feature allows the user and Utility to interact seamlessly within the portal, allowing for rapid logging, auditing, and management of issues on both sides.   
Superior Data integration strategy for Utility Data
Through collaboration with our utility partners, we have learned that utilities are often unenthusiastic to extend their (legacy) CIS and ODS due to complexities and costs. Utilities feel that tight coupling between one system and another reduces flexibility (Tight coupling is when software components are highly dependent on each other). For example, one of our utility partners were faced with a major upgrade for their CIS to gain access to a sufficiently capable API to allow minor integration with our customer communication tool for a feature they requested. The seemingly simple process to gain access to the Utility's own data became a multi-month process that required heavy involvement which should theoretically be simple if the infrastructure was built for digitization.  
The reality is third-party integration is tricky, as most legacy vendors still have the mentality that the data should only be held in one system.  This old school way of thinking not only manifests into a 'Data Island' mentality where a single vendor becomes the Utility's data gatekeeper, it also reduces the utility's digitization opportunities.  In some cases, this can increase the risk of future security issues that evolve out of the tendency for these organizations to directly integrate their own tools to their databases.  
Our machine learning strategies for data loading allow us to use non-traditional interfaces and techniques, such as bill print files, PCL files and flat file exports. With our supervised machine learning strategy that has been training for a number of years, these previously problem-prone interfaces can be used to reliably integrate data with a "fail-safe" approach.
Rather than direct integration, our customers have chosen to use our flexible, reliable data loading tools. Our non-traditional integration and troubleshooting strategies have proven reliable over years in production, and our utility partners maintain flexibility in their CIS and ODS systems without risking integrations that can cause future security risks and data lock-in.
Superior analysis and monitoring of Data aggregation 
Utilities experience regular move-outs and move-ins of customers (plus other ongoing operations such as meter changes) while maintaining service. Utilities also have constantly changing billing parameters due to market, regulatory or system changes. Consequently, gaps and data additions are common in accounts, bills and meter data. For example, a common situation is a meter change that is not reported in real time (sometimes a week later). A 100% match of all accounts to meter IDs is unusual. More commonly 1%-5% of meters are not present on the meter Operational Data Stores (ODS), or the link between a billing account and a meter has changed or is missing. Our solution contains strategies to monitor the completeness of the dataset for analysis while reducing false alarms caused by typical data inconsistencies. We have processes to manage change.
Our monitoring tools and alarms are part of our constantly evolving improvement process that have been integrated into our internal support tools to ensure we are apprised as soon as possible of data inconsistencies that interfere with the customer experience. These processes are especially important when you consider governing historical and future 'account to bill to meter' management. 
Ease of integration to parties authorized to use the Utility Data
Our white-labelled mobile application and web access use our secure, flexible API to get customer data and perform other operations, such as maintaining paperless billing preference and integrated support. The API is evolving with new Utility partner needs and is flexible to be used by other software developers.
In fact, our API was used by a market-leading Green Button provider as a data source for providing Green Button DMD and CMD functionality as required by Ontario regulation. Also, our utility partners use it for their custom public website and have integrated it into a secure third-party customer portal. Our API is also used to integrate our outage management toolset with the utility's public websites.
Adaptable platform to manage day-to-day security issues
The harsh reality of the modern internet is that attacks happen literally every day. System security and data security are primary concerns for all software developers. For Screaming Power, security is a major cost center, and there is no evidence to suggest this will lessen in the future.
Our solution is designed from the ground up for security. For example, we have architected our front-end components (mobile app and web access) to use our API sparingly so we can enforce narrow rate limiting in our overall solution. Our API underwent a full security overhaul as part of our expansion to web access and continues to be managed with a security-first approach.
Our security is a multi-layered approach. As well as application security, we have extensive network security. We establish IPSEC tunnels from our utility customer networks to private subnetworks at our facility to segregate network connectivity by utility.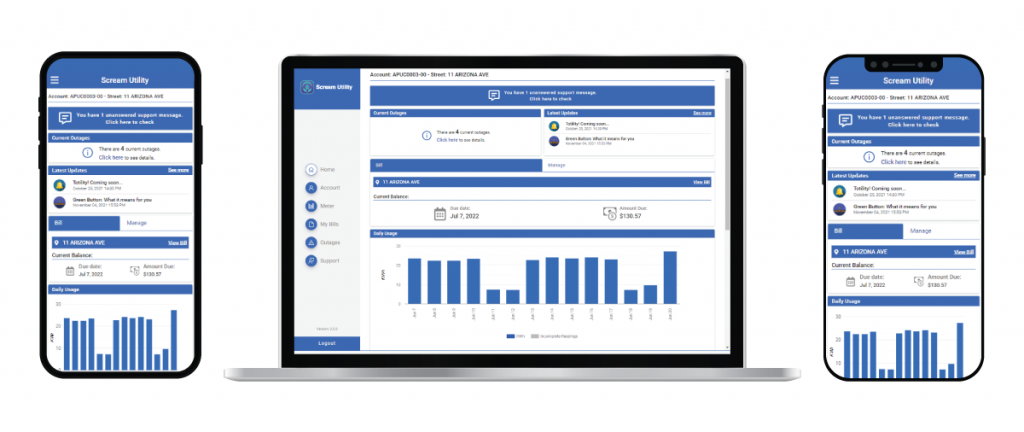 What differentiates Screaming Power from its competitors?  We find an integrated Customer Engagement toolset that provides all key communication functions for the utility and its customers delivers the highest level of value for everyone.  The idea of one user experience for all touch points requires evolution and progression. We believe the Utility is part of the digital wave and Utility branding (businesses) have untapped opportunities to grow and evolve with the changing energy and water landscape using the right infrastructure. 
We provide customer engagement solutions that are mobile-first platforms with a seamless look-and-feel across our Utility-branded mobile and web portals (Customer Portals).  The solution evolves with one code base creating a cost effective, cooperative approach that keeps expanding along with our Utility partner needs and market advancements. We provide single sign-on for Utility users across multiple customer engagement channels, keeping the users coming back through their desired platform. We believe in integration to others and do not restrict the Utility to choose who they want to work with.
In addition, we are the only customer engagement solution providing unique standalone real-time outage management features focused on direct user interaction analysis. We help the Utility use the data for education such as GHG conversions / comparators to assist the Utility customer with sustainability. We allow the Utility to engage with consumers to help understand and fight climate change.
We provide optional low cost, first-level, 2-way interactive customer logged support for our utility partners that need additional assistance. We are energy data experts that provide recommendations to support an effective digitization strategy for utilities.  We are a constantly evolving platform that uses internal research as a backdrop to innovate and evolve our toolset.  
Overall, we have created an innovative, in-production toolset that expands monthly through input and lessons learned.  We have the lowest cost of ownership and the most effective 'Customer Engagement Portal' across mobile/web platforms for utilities of any size.  But, we are more than a portal;  we are a digitization tool and strategy that expands to our Utility partners' needs.  
For more information on our products or if you are interested in a partnership.  Please contact us.  
About Screaming Power Inc.
Screaming Power is revolutionizing customer engagement by providing a mobile, web and cloud user and data platform that connects the energy user with the market, allowing for effective and secure two-way communications to educate, change behaviour and encourage sustainability in a cooperative way. Our extensible Intellectual Property provides a low-cost, secure, digital infrastructure for a self-sustaining Eco-System. Our Scream Utility & Scream Enterprise  solutions focus on reducing 'cost-to-service' for utilities while driving satisfaction and facilitating the delivery of innovation and engagement (e.g., connectivity to the IoTs).