Quickly and Easily Monitor Energy Consumption. Screaming Energy App Allows You To Graphically View, Manage, Analyze & Share Your Utility Data
Written by: Crackberry.com
 This year I set out with a goal of attempting to organize things in my life and at the top of that list was taking care of bills more appropriately. I switched everything over to online billing and thought the email reminders of when my bills were due might actually help but given the amount of email I get in the run of the day, they just ended up getting lost and forgotten about, especially utility bills such as power and water considering they only get sent out every two months where I live.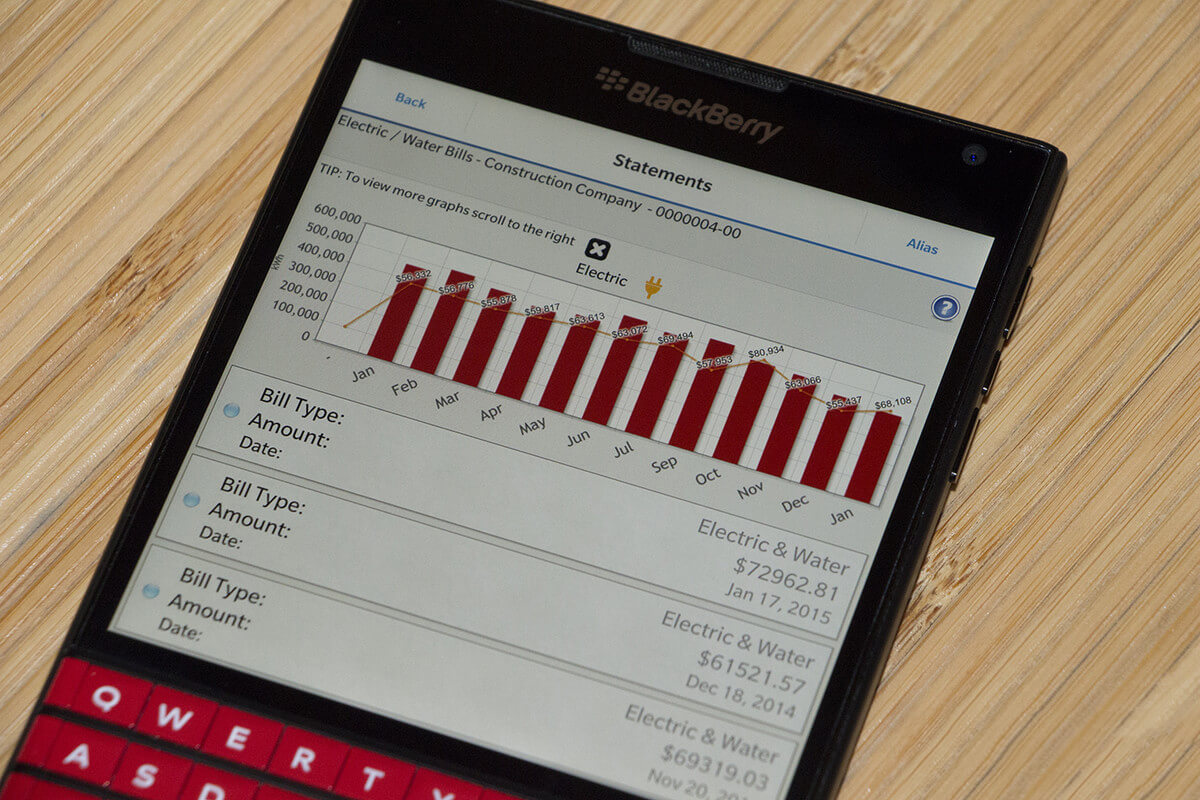 Not wanting to give up, I decided to look for some BlackBerry apps to help me out and recently came across Screaming Energy, which dubs itself as a Energy Bill Management Tool in BlackBerry World. The app is fairly new, having only been released back in February, so I've yet to utilize it fully but the set up of it all was enough to impress me so it only seems fitting that I share it here on CrackBerry.
The Screaming Energy app allows end-users to quickly and easily monitor energy consumption and while it does seem aimed at enterprise because it can handle hundreds or even thousands of accounts and organize them in an easy manner, it can also be used by regular consumers just wanting to track their own bills and energy consumption as well as bill due dates plus, all the input data can be exported using email, Dropbox, OneDrive, or BBM in various formats such as Excel, XML and more.
See your information all in one system:
View all your electric, natural gas & water information through a "Dashboard"
Allows easy access to bill details, including usage, tax, and rates
Handles over 200 different currencies
Provides 'Share / Import' features to integrate & analyze energy information
Share your utility data with others. Send your saved data by:
Using email, Dropbox, OneDrive, or BBM in various formats (Excel, flat file, and XML)
Sharing data with other trusted apps on your device or on external systems using a standardized data delivery system
Utilizing our APIs to permit user authorized third party access, allowing others innovate.
Save your utility providers' bill information by:
Importing information using our standardized XML and CSV file
Entering your information manually in our "smart" manual entry tool
Building a customized data link to update the information
Scanning a unique bar code (if available)
Automatically downloading from your utility (if available), to get regular billing updates and have mobile connectivity with your utility.
Honestly, the app is pretty much overkill for me. I just need a simple reminder for me to pay my bills on time, but it's no stretch of the imagination that many of you out there might be able to use this app in even more meaningful ways so if it seems as though something you would be interested in, go ahead and give it a look. Screaming Energy is available as a free download and you can check out a quick video demo below to get a closer look at the app or check out the Screaming Power site for more details.
March 12th, 2015
About Screaming Power Inc.
Screaming Power is revolutionizing customer engagement by providing a mobile platform that connects the energy user, allowing for effective and secure two-way communications to educate, change behaviour and encourage sustainability. Our extensible Intellectual Property provides a low-cost, digital infrastructure for a self-sustaining Eco-System. Our Scream Utility & Scream Enterprise mobile solutions focus on reducing 'cost-to-service' for utilities while driving satisfaction and facilitating the delivery of innovation (e.g., connectivity to the IoTs).