Lakefront Hosts Launch Event for New Mobile Application
Written by: Dereck Paul, President Lakefront Utility Services Inc.
Lakefront Utility Services Inc. announced the official release of their Mobile Application during a launch event held at Lakefront's Garage on 25 Ewart Street, Cobourg. Lakefront was joined by Kim Rudd, Parliamentary Secretary to the Minister of Natural Resources and Member of Parliament for Northumberland−Peterborough South, Screaming Power Inc., Northumberland Community Futures Development Corporation (CFDC) and members of the Town of Cobourg Council to celebrate the launch of the first Mobile Utility Solution of its type in Ontario.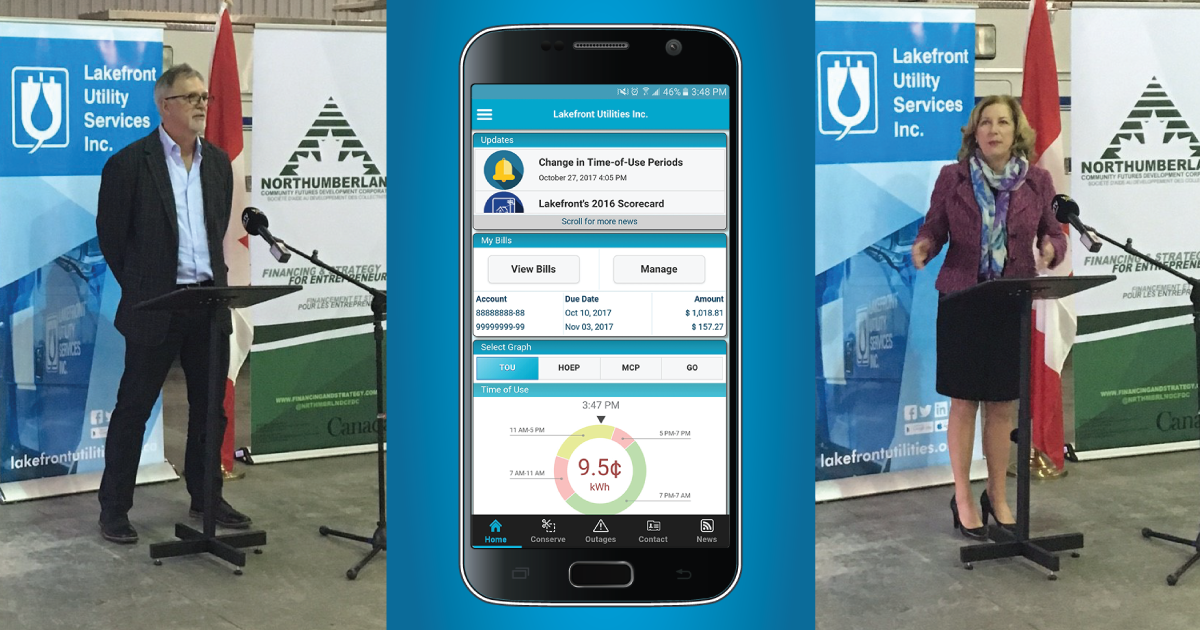 The Mobile Application expands upon Lakefront's current customer service programs by providing billing, consumption and conservation information, as well as instant outage notifications and pertinent news all from the convenience of their customers' mobile device. Through mobile innovation and technology, the utility has empowered their customers to better understand and manage their water and electric usage by providing them with this automated and user friendly mobile solution.
"This new app takes energy-use information to the next level. What Screaming Power has done, in partnership with Lakefront Utility, is bringing key electricity consumption information directly to your smartphone. As consumers, this information is critical to helping us make informed energy choices. These advances are being made right here at home across Eastern Ontario."
Kim Rudd
"This App is a testament to what can be accomplished through collaboration and innovation. There were many organizations involved in making the mobile application possible. It is through these partnerships and programs that a smaller utility like Lakefront Utilities can be in a position to offer its customers the first mobile Utility solution of its kind in Ontario."
Dereck Paul
"Northumberland Community Futures Development Corporation (CFDC) is pleased to see Screaming Power advance so quickly in moving from concept to product launch of their new app via joint venture with Lakefront Utilities. The Collaborative Economic Development Program $100,000 contribution has propelled their speed to market forward – clearly Innovation in Action in Eastern Ontario."
Wendy Curtis
"Working with Lakefront on building out the solution has been a fantastic experience.  To see where this has gone and now understand where it can go has opened all our eyes as to what this local Utility can do for its community when considering the future of innovation and customer engagement."
Gary Michor
Customers are encouraged to download the App for free on Android and iOS devices by searching Lakefront Utilities at the Google Play Store or the App Store.
This mobile application has been made possible through the assistance of Screaming Power, Cornerstone Hydro Electric Concepts, the Federal Economic Development Agency for Southern Ontario's Eastern Ontario Development Programs Collaborative Economic Development Projects (CEDP stream) delivered by Northumberland CFDC and the Ontario Centres of Excellence.
Lakefront Utility Services Inc
LUSI provides the human resources, administrative, financial and operational services to The Town of Cobourg Holdings Inc. and the utility subsidiaries, safely and efficiently, in compliance with applicable regulations. LUSI provides customer-focused and cost-effective multi-utility services so that customers benefit from service advantages and economies of scope cost savings. LUSI also operates the Water Systems for the Town of Cobourg, Township of Cramahe (Colborne) and the Hamlet of Grafton. 
Cornerstone Hydro Electric Concepts
www.checenergy.ca Federal Economic Development Agency for Southern Ontario www.feddevontario.gc.ca
CHEC is a not for profit association that is committed to its members, assisting them to service their customers and communities. They are premier LDC Cooperative in the Province of Ontario and look to exceed their members' expectations through the sharing of services, opportunities, knowledge and resources.
Northumberland's Collaborative Economic Development Projects
https://financingandstrategy.com/
The intent of CEDP is to help trigger investment decisions that will strengthen innovation across Eastern Ontario and kick start new economic activity. CEDP can unlock the will and determination of Eastern Ontario's industrial leadership to invest in emerging technologies, productivity enhancements, globally competitive business practices, new product development and skilled workforce development on a pathway to business growth, expansion and profitability.
Ontario Centres of Excellence
Ontario Centres of Excellence (OCE) drives the development of Ontario's economy by helping create new jobs, products, services, technologies and businesses. OCE works directly with academia and industry to bring prospective partners together to turn ideas into income.  OCE accelerates innovation through game-changing research leading to successful commercialization and vibrant collaboration between industry and academia helping to launch the next generation of products and jobs
November 23rd 2017
About Screaming Power Inc.
Screaming Power is revolutionizing customer engagement by providing a mobile platform that connects the energy user, allowing for effective and secure two-way communications to educate, change behaviour and encourage sustainability. Our extensible Intellectual Property provides a low-cost, digital infrastructure for a self-sustaining Eco-System. Our Scream Utility & Scream Enterprise mobile solutions focus on reducing 'cost-to-service' for utilities while driving satisfaction and facilitating the delivery of innovation (e.g., connectivity to the IoTs).