Lakefront Launches Mobile Application for Customer Engagement
Written by: Dereck Paul, President Lakefront Utility Services Inc.
Lakefront Utility Services is excited to announce the launch of their iPhone and Android mobile app that will give its customers an automated and simple way to manage their electricity and water accounts. With this new software, Lakefront customers can retrieve billing, view consumption history, receive outage notifications and learn about conservation programs all from the comfort of their own mobile device.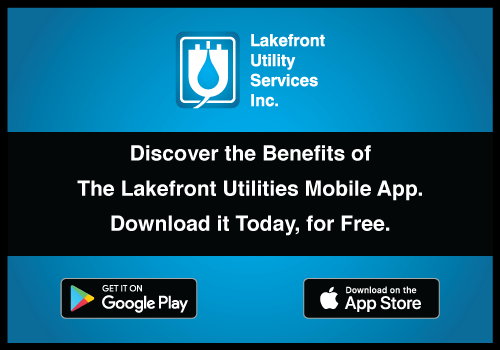 This app is one of the first mobile Utility solutions in Ontario to bring this information to the fingertips of the customer. Lakefront is a recognized leader in innovation and the new app is another example of how the Utility is committed to helping their community grow and adapt to the ever-changing technological world.
"The Lakefront App will help us meet the information demands of today and tomorrow as it offers great flexibility and simplicity for this data-centric world we live in. With the Lakefront App, users can receive updates without leaving their mobile device. Our solution increases our link with the community and empowers our customers to become more engaged with their utility."
Dereck Paul
The App complements current customer service offerings by empowering and educating water and electric customers through mobile innovation and technology. The app it is part of a pilot project with Screaming Power and Cornerstone Hydro Electric Concepts, and the parties involved are eager for customers to download the app and provide feedback for further development and direction.
This mobile application has been made possible through the assistance of Screaming Power, Cornerstone Hydro Electric Concepts, the Federal Economic Development Agency for Southern Ontario and Northumberland's Collaborative Economic Development Projects and the Ontario Centres of Excellence. 
About Lakefront Utility Services Inc.
Lakefront Utility Services Inc. (LUSI) provides customer-focused and cost-effective multi-utility services so that customers benefit from service advantages and economies of scope cost savings. LUSI also operates the Water Systems for the Town of Cobourg, Township of Cramahe (Colborne) and the Hamlet of Grafton, as well as provides the human resources, administrative, financial and operational services to The Town of Cobourg Holdings Inc. and the utility subsidiaries.
See www.lakefrontutilities.on.ca for more information.
About Screaming Power Inc.
Screaming Power is revolutionizing customer engagement by providing a mobile platform that connects the energy user, allowing for effective and secure two-way communications to educate, change behaviour and encourage sustainability. Our extensible Intellectual Property provides a low-cost, digital infrastructure for a self-sustaining Eco-System. Our Scream Utility & Scream Enterprise mobile solutions focus on reducing 'cost-to-service' for utilities while driving satisfaction and facilitating the delivery of innovation (e.g., connectivity to the IoTs).