New Mobile App Now Available for PUC Customers
Track usage, billing, outages and get tips to save money
Written by: Jairus Patterson, Communications Coordinator, PUC Services Inc.
PUC Services Inc. has made the customer experience easier by launching our "MyPUC" mobile app. This free app is now available for download. It allows customers to digitally track and manage their utility services anytime, anywhere.
"We heard from customers that they wanted a mobile solution that would make it easier to track usage, costs and receive outage alerts. We listened to those requests and developed the new MyPUC App that will make it easier for both business and residential customers to connect with PUC," said Rob Brewer, President and CEO of PUC Services Inc.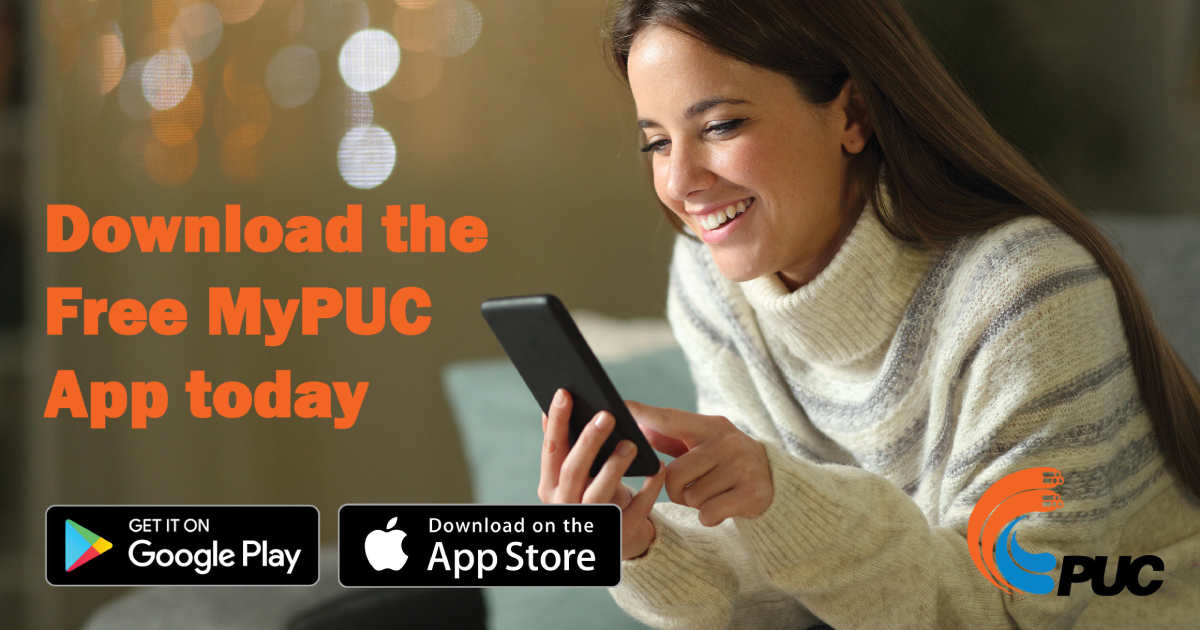 The MyPUC mobile app brings information regarding water and electricity usage right to the customer's fingertips. The app includes tools like billing and meter management, digital bill delivery, conservation tips, two-way communication, outages, notifications and so much more.
"The goal for PUC is effective customer engagement and education, while providing paperless digital billing that will save everyone time and money, reduce red tape, and move our utility into the digitized world," added Brewer.   The app will also have a significant impact on reducing energy consumption, utility costs and GHG emissions.
Energy Minister Todd Smith said he welcomes innovative solutions that can help the people of Ontario conserve energy and save money on their energy bills.
"This is good news for PUC customers, who will have easy access to their billing and metering information," says Minister Smith.  "Our government is always supportive of innovative technology that helps people to better understand their electricity consumption and to save money on their electricity bills."
"This mobile app is simple to use and was created with the customer in mind. Our goal with the app is to give people a secure, easy way to manage their PUC account(s) and stay up to date with the latest information," said Jairus Patterson, PUC Communications Coordinator.
This mobile solution allows everyone to stay in the know with everything PUC. With a simple download of the "My PUC" on an iOS or Android, customers can start tracking their energy usage to save time and money and never miss out on important news and historical information.
This app is available to download for FREE on Android and iOS devices by searching PUC Services Inc. on Google Play or the App Store.
Customers are encouraged to provide feedback as the app evolves to ensure it meets their needs.
For more information, please visit www.ssmpuc.com.
Media contact:
Jairus Patterson
Communications Coordinator
PUC Services Inc.
P: 705-759-6581
C: 705-254-8979
E: jairus.patterson@ssmpuc.com
About Screaming Power Inc.
Screaming Power is revolutionizing customer engagement by providing a mobile platform that connects the energy user, allowing for effective and secure two-way communications to educate, change behaviour and encourage sustainability. Our extensible Intellectual Property provides a low-cost, digital infrastructure for a self-sustaining Eco-System. Our Scream Utility & Scream Enterprise mobile solutions focus on reducing 'cost-to-service' for utilities while driving satisfaction and facilitating the delivery of innovation (e.g., connectivity to the IoTs).