Reducing Greenhouse Gas Emissions with Big Data
Researchers from Ryerson have been collaborating with the company Screaming Power on technology that predicts energy usage through real-time analysis of vast data sets.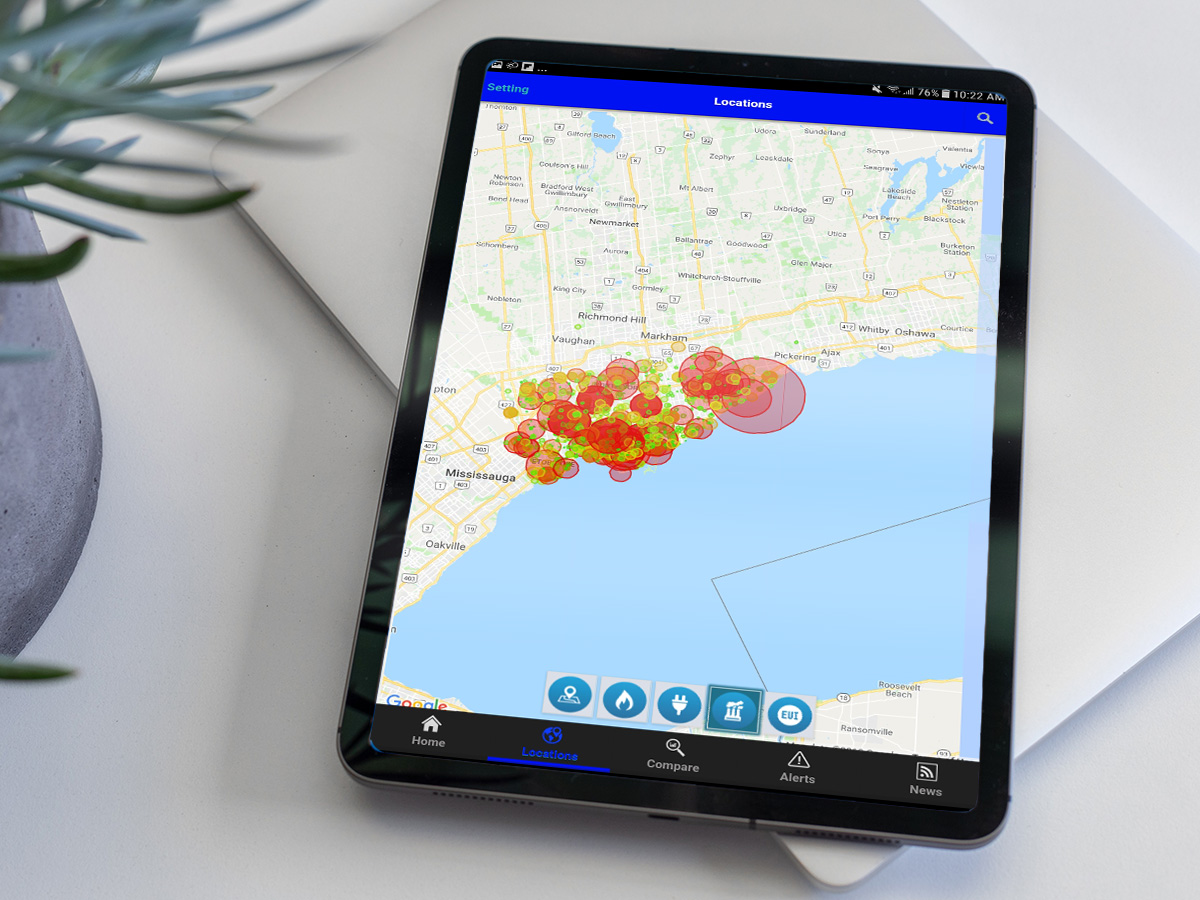 To tackle this problem, researchers from Ryerson have been collaborating with Screaming Power, an energy-focused mobile applications company, on technology that predicts energy usage through real-time analysis of vast datasets. Through a mobile phone app, users can use this information to improve their building's energy efficiency and see how this translates into a reduction in emissions.
In the most recent stage of the project, computer science professor Chen (Cherie) Ding helped Screaming Power to harness a cloud platform provided by the Ontario-based research and development consortium SOSCIP, which funded the project. This enabled the team to run a machine-learning model that crunched the numbers from public and private sources, including 22,500 buildings, 600,000 bills provided by utility companies and data from more than 8,700 Canadian weather stations stretching back to 1958.
"There could be 20 variables you're considering, for example, weather, the number of levels in a building or the kind of materials they used to construct it," she said. "Once you have those inputs and the model itself, you have to try to tune and optimize the model to make sure it works well."
Professor Ding worked with Ace Sahebalam, a data scientist at Screaming Power and a former Ryerson postdoctoral research fellow in the Signal and Information Processing Laboratory, where the project first started in 2015. Electrical engineering professor Soosan Beheshti, who is director of the lab, worked with Sahebalam on the development of the machine-learning model that is at the heart of the innovation. They published their pioneering research in an article titled Structure Dependent Weather Normalization in the journal Energy Science & Engineering.
After concluding her research on the Screaming Power app project, professor Ding says that she believes this kind of big data usage can help to influence behaviour on issues such as energy consumption and climate change. With the immediacy of an app interface and real-time data, users can get a better idea of how their actions are contributing to global emissions.
"If you have this kind of app, it reminds you that maybe you can change your pattern and that can help to save energy," she said. "Sometimes people want to consume less energy, but they don't really know how. With this app, they can get some more information and more guidance."
The app, which is currently aimed at industrial and commercial building managers, has now completed its final stages of development. After conducting a solution pilot at the City of Toronto, Screaming Power says that the research team has proven that it's possible to work more closely with energy utilities to help improve the customer's energy usage and reduce emissions. The mobile application is being used by the Federal Government for its buildings in the Ontario region. What's more, the researchers believe they have created a global algorithm that can be used in any environment and climate around the world.
About Screaming Power Inc.
Screaming Power is revolutionizing customer engagement by providing a mobile platform that connects the energy user, allowing for effective and secure two-way communications to educate, change behaviour and encourage sustainability. Our extensible Intellectual Property provides a low-cost, digital infrastructure for a self-sustaining Eco-System. Our Scream Utility & Scream Enterprise mobile solutions focus on reducing 'cost-to-service' for utilities while driving satisfaction and facilitating the delivery of innovation (e.g., connectivity to the IoTs).