Enhancing Customer Engagement Through Sharing Data Lakefront Utility Services Inc. is Leading the Way
Written by: Dereck Paul, President Lakefront Utility Services Inc.
 It's 2018 and most utilities aren't using mobile applications to engage and simplify customer interaction, however, Lakefront Utility Services Inc. (LUSI) are doing things differently. In November 2017 they started a journey to enhance engagement with their customers through mobility. By taking advantage of modern technology, LUSI is expanding their company and helping their customers via the Lakefront mobile application.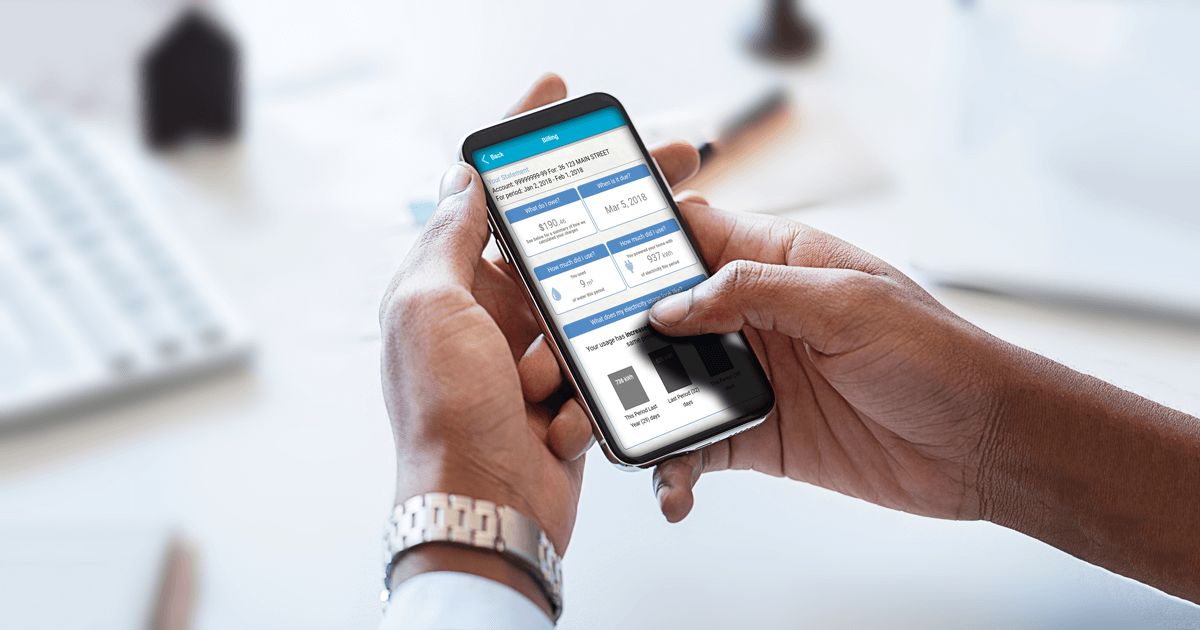 Despite the Lakefront app only being a few months old, it has seen quite a few enhancements. One of the app's many strengths is its ability to grow with the company and adapt with the industry through the introduction of new features and updates. These cost-effective improvements in technology are provided through Lakefront's partnership with Screaming Power Inc. 
Download on The Google Play & The App Store  
Being one of the first true mobile Utility solutions in Canada, Lakefront has been seeking its customers' feedback since the app's launch and working with Screaming Power to develop and improve the application. With Lakefront's newest version, the application allows the customer to access and utilize their historical billing information themselves in a matter of a few clicks of their mobile device.
One of the Utility's larger customers, Arclin Canada Inc., appreciates that Lakefront is constantly innovating and providing services that respond to the customer's needs. Angela Herron of Arclin recently tested out the new export feature which allows her to get Arclin's billing data electronically.  "Now it's simple to get my electric and water information. Before I had to call someone and wait until they had time to get it for me or go through each bill and manually create a spreadsheet. With the new export feature, I can do it myself and it's instant. The App saves me time and effort and allows me to better manage my costs and reporting needs."  
Dereck Paul, President & CEO of the Lakefront Group of Companies, sees this not only as an offering the customers want but also as an efficiency that can save the Utility time and money. "Utilities are getting pressures to reduce cost and innovate," comments Paul. "The evolution of this app is achieving that while we modernize the way we provide service. There are constantly new changes within the utility industry through innovation, green technologies and government policies and we need the right tools to take advantage of it. Lakefront has found a key tool in mobility."
Lakefront is part of the Smart City Industry and infrastructure. Paul takes this emerging electric landscape seriously. "We want our customers to look at Lakefront as enablers of change. We want to promote new business within the communities we serve. What better way to work towards that than changing the way we interact with our customers, so it makes it easier for all of us." 
What's next for Lakefront's mobile application? New features are in development that will allow Lakefront to better assist their customers while engaging in the internet of things. Lakefront continues to be a champion of change with the customers' needs always at the forefront. 
 March 21, 2018 – Cobourg, ON 
About Lakefront Utility Services Inc.
Lakefront Utility Services Inc. (LUSI) provides customer-focused and cost-effective multi-utility services so that customers benefit from service advantages and economies of scope cost savings. LUSI also operates the Water Systems for the Town of Cobourg, Township of Cramahe (Colborne) and the Hamlet of Grafton, as well as provides the human resources, administrative, financial and operational services to The Town of Cobourg Holdings Inc. and the utility subsidiaries.
See www.lakefrontutilities.com for more information.
About Screaming Power Inc.
Screaming Power is revolutionizing customer engagement by providing a mobile platform that connects the energy user, allowing for effective and secure two-way communications to educate, change behaviour and encourage sustainability. Our extensible Intellectual Property provides a low-cost, digital infrastructure for a self-sustaining Eco-System. Our Scream Utility & Scream Enterprise mobile solutions focus on reducing 'cost-to-service' for utilities while driving satisfaction and facilitating the delivery of innovation (e.g., connectivity to the IoTs).